Long Island Construction Accident Lawyers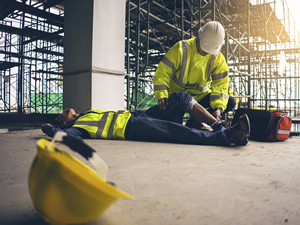 The construction industry is a very high risk industry.  Each year many workers are killed or experience a serious construction accident or injury while doing construction work.  Receiving a severe construction accident injury can change a person's life forever – in just an instant resulting in them not being able to walk or move normally for weeks or months or perhaps ever again. And during their recovery, they often cannot work due to their injury. Federal and State regulations require building owners and general contractors to provide adequate safety protection for workers to assist in avoiding such construction accidents but sometimes these fall to the side..
Some construction site hazards that cause serious injury or death are:
Scaffolding Accidents
Workers Falling from heights
Machinery accidents
Crane Accidents
Being Struck by an object
Exposure to toxins including asbestos
Electrocution
Explosions and Fires
These construction accidents can result in devastating permanent injuries that affect your quality of life.  If you or someone you know were a victim of a construction accident, contact the Long Island Personal Injury lawyers and attorneys of Zemsky and Salomon, NY as soon as possible to discuss your options.
Zemsky & Salomon, Long Island Construction Accident Attorneys, will stand up for you and make sure your rights are protected.  A construction accident may often lead to catastrophic injury or death   The Long Island Construction Accident Lawyers of Zemsky & Salomon will help those who are injured in a construction accident recover damages for their injuries including medical bills, lost wages and pain and suffering.
CONTACT OUR LONG ISLAND CONSTRUCTION ACCIDENT LAWYERS AND ATTORNEYS
If you or a loved one was seriously injured or killed in a construction accident, call the Long Island Construction Accident Attorneys of Zemsky & Salomon P.C. for a free consultation.  We can be reached at (516) 485-3800 or use the form below.
We handle personal injury and wrongful death lawsuits on a contingency basis.  This means we absorb all fees and costs until we have successfully secured compensation for your injuries.  We do not get paid unless you get paid.
Victim of a Construction Accident? – See if You Have a Case Today.
For a free legal consultation with a personal injury lawyer serving Long Island, call 516-485-3800 or click the button below to complete the form.
Examples of cases our personal injury lawyers handle include the following:
Need legal assistance for a construction accident?
Zemsky & Salomon Attorneys at Law is ready to meet your needs. We offer services to anyone in New York and the surrounding areas looking for professionals to file lawsuits and negotiate with insurance companies.  Reclaim your life after an accident with the help from our legal experts.
Contingency Fee Basis Means...
NO FEE UNLESS WE WIN!
Zemsky & Salomon operates on a contingency basis. We will only charge you for our services when we win your case. In other words, you will pay nothing unless we recover money from your claim.